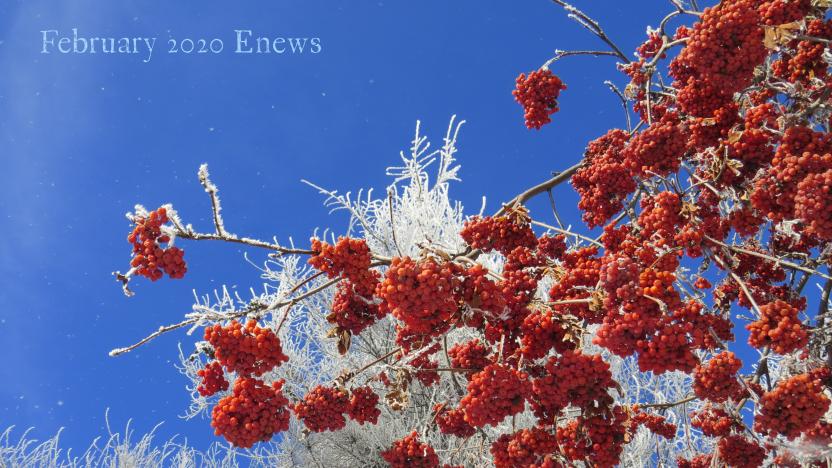 February Enews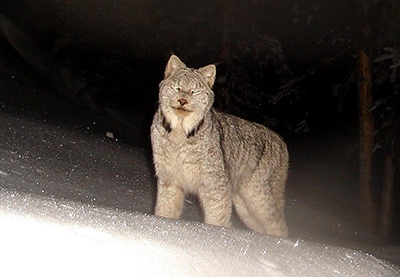 February First Tuesday: Climate Change Indicator Species of the Methow
Tuesday, February 4th, 7 – 8pm
Venue: Winthrop Barn, Free, No RSVP required
Dynamic father-daughter duo Scott and Amy Fitkin will share their knowledge of local indicator species whose populations are sensitive to impacts of climate change. They will cover:
How climate change is threatening critical habitat for pika, Wolverine, and Lynx
How animal behavior may change over time
What we can do to steward climate change resilience in our own backyards.
Scott is the WDFW Okanogan District Wildlife Biologist. Amy is Methow-grown and currently working on her Master's in Environmental Education through Huxley College of the Environment at Western Washington University. We are excited to learn from these two and hope you will join us!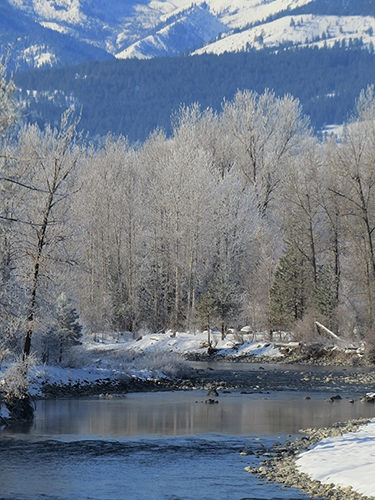 Understanding Water
On December 18th, 2019 the Okanogan County Commissioners adopted Ordinance 2019-11, effectively placing a moratorium on the division of land within the Methow watershed, subject to a few narrow exceptions. According to the County Commissioners, this Ordinance was enacted in response to threatened legal action by the Methow Valley Citizens Council and Futurewise related to the Okanogan County Comprehensive Plan.
As required by law, the County Commissioners held a Public Hearing on Monday, January 27th in Winthrop. At that well-attended hearing, the Commissioners took written and verbal testimony, and chose to keep the public comment period open until February 25th. That said, we expect the County Commissioners to substantially maintain the moratorium imposed by Ordinance 2019-11.

The Methow Conservancy believes in finding a solution that ensures adequate water for fish and wildlife, for farmers, and for well-planned future growth. The adoption of this Ordinance, however, came without the process of collaborative community engagement and problem-solving we would have much preferred. The Methow Conservancy Board of Directors submitted written public comment on Ordinance 2019-11. You can read our January 27th comment letter here.

The issues at the heart of this action by the County Commissioners are complex, not universally agreed upon and may take years to resolve. Clearly the County must follow through with the update to its Comprehensive Plan and Zoning Code. And, as stated in the Ordinance, the County will study water availability in the Methow basin during the moratorium. What is less clear, however, is the path forward to obtaining legal clarity about the Methow Rule, one of the legal principles that governs water use in the Methow Valley. We believe that this effort will require significant time, expertise and resources from our community.

Many of you have asked us for assistance in better understanding the history leading up to Ordinance 2019-11. Below are documents that we have found helpful. We'd like you to please take special care to review the Methow Watershed Plan, a plan that was developed locally, by citizens, and approved by the County in 2005. This Plan is to be implemented by the Methow Watershed Council, which we believe is a strong forum for discussion and advancement of our community's best interest in the coming weeks, months and years.
For those of you interested in digging in even deeper, we are creating a detailed web page in our Resources section with links to more educational background pieces, water studies, news reports, and more. Check out our Water Resources info here.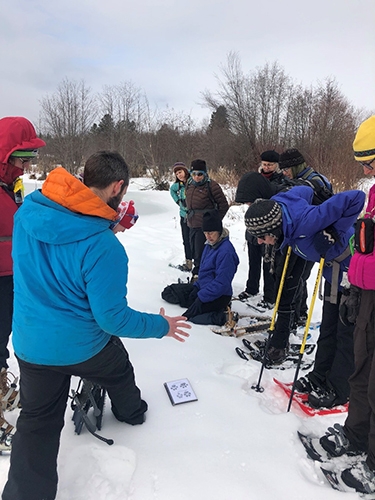 Learn with Us!
We're deep into the heart of winter - and whether it's slushy or cold it's a great time to learn with us! Join us for an upcoming event, class, or workshop: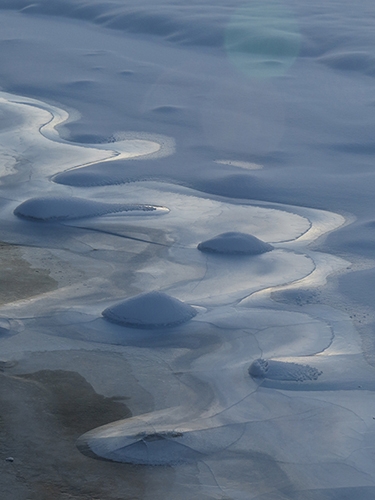 Join us for a 4-week Deep Dive into Winter Ecology
Conservation Course 2020 - Snow's Biome
Monday Evenings, February 24th – March 16th, 6 – 8pm
Venue: The Winthrop Barn
Register by emailing Daniel or calling 509-996-2870. Cost: $90 for full 4-session course or $30 per class.
This winter, we'll be focusing on how life thrives in our coldest months, by shoveling into the different roles that both biotic and abiotic processes play in the Methow's winter ecosystem.
This year's syllabus is:

February 24th: Warm Blood- Dr. Erick Greene, a Professor of Wildlife Biology at the University of Montana, will present his research on two of the Methow's most abundant winter time residents -- the black capped chickadee and red breasted nuthatch. He'll explore how they use communication networks to spread warning calls in response to predators. Much of Erick's research was done right here in the Methow Valley!
March 2nd: Snow Science - Local snow science expert Brad Sawtell will help us learn about what snow is, how it forms, and in what ways it shapes our landscapes. It turns out that it's not just Gregor that undergoes a metamorphosis, but snow as well.
March 9th: Humans and Winter - We may be accustomed to stomping off our ski boots outside a cozy home before snuggling in with a hot drink, but how have humans in the Methow found ways to survive and thrive during the coldest months throughout history? We have partnered with the Methow Valley Interpretive Center and the Shafer Museum to share stories of humans of the Methow Valley and their winter time activities. Richard Hart and Suzanne Perrin will lead us in this human exploration of winter.
March 16th: Living Snow- Dr. Robin Kodner, Associate Professor of biology at Western Washington University as she explores the microbiome of snow and teaches us that snow is a living thing that can tell us a lot about the health of our ecosystem. She will also touch upon her community science research through the Living Snow Project.
Class size is limited, so register soon!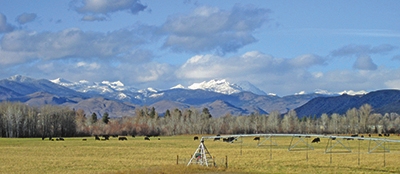 Use Your Voice!
Although the Washington State Legislative session is short this year, there are two bills making their way through the process that we're paying attention to. Here are two options for advocating on behalf of fish and farming in the Methow Valley.
Suction Dredge Mining Legislation: Our friends at Trout Unlimited and conservation organizations across the State are working hard to pass new legislation in 2020 to bring Washington's outdated suction dredge mining legislation in-line with neighboring states by prohibiting motorized suction dredge mining in streams like those in the Methow watershed identified as Critical Habitat for threatened or endangered salmon, steelhead and bull trout. HB 1261 is likely to get a vote on the House floor soon. Please click here to learn more and consider reaching out to your State Representatives and Senator to urge their support of updated suction dredge mining rules in 2020.
Keeping Agricultural Water in the Valley: We have been working with key collaborators in the Methow Valley to ensure local agricultural water remains in the Valley. Momentum has built quickly. 12th District Representatives Keith Goehner and Mike Steele have introduced a bill (HB 2866) that would prevent transfers of limited agricultural water resources out of certain headwater basins east of the Cascade Mountains and block water speculators. There will be a hearing on this bill on Friday, the 31st. If you would like to learn more about the bill and/or comment on it electronically, you can do so here.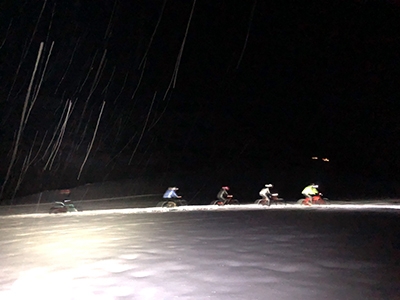 The Recipe
If you have ever wondered what the recipe is for a Methow millennial's perfect night, the Methow Conservancy's Gen Nxt group discovered it at our January 30th fat biking event at the Bear Creek Golf Course. All you need to make this recipe on your own is a calm, preferably lightly snowing night, a large fire pit made from a repurposed chimney cap, a network of flowing fat biking trails in close proximity to a warm clubhouse, a selection of fun Kona and Salsa fat bikes, grill items of your choice, and the best people you can find. This was our first time making this dish and thankfully we had the incredible help, generosity, and guidance of Julie, Joe, Kat, and Ryan from Methow Cycle and Sport as well as Mike from the Bear Creek Golf Course. We'd highly recommend you go visit them soon and find out what you have been missing!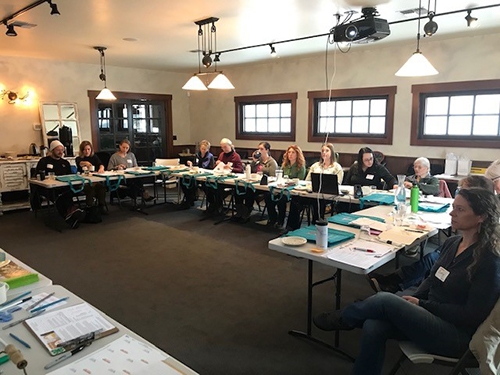 Women In Agriculture Conference a Success!
by Alyssa Jumars, Agricultural Coordinator
The Methow Conservancy had the pleasure of being a partner in hosting a satellite location for the national Women in Agriculture conference on January 25th. The "tele-conference" was led by university extension services at satellite locations across Washington, Idaho, Oregon, Montana, Alaska, and Hawaii. Our local WSU Okanogan Extension director, Kayla Moses-Wells, connected our Winthrop group to the national teleconference feed, and also did an expert job of leading group discussions among the workshop's dozen participants. The conference topic this year was how to cultivate personal resiliency in an occupation that is uniquely stressful.
As a participant and a women farmer myself, it was really powerful to listen to other women farmers in the room, and recognize that I am not alone in many of my farming anxieties. I personally came away with some great tools for increasing mindfulness and breaking some of the stress cycles brought on by the nature of my occupation. I also learned some really interesting statistics that give me a lot of hope: in Washington, 42% of farmers are women. Nationally, that numbers is 36% -- but the number of women entering farming is outpacing the number of women farmers retiring. Since the last Ag Census, women farmers have increased in numbers by 7%!
We have several more upcoming workshop opportunities for all farmers, including a Direct Marketing Strategies workshop on Feb. 24th, and a Succession Planning workshop on March 14th.

Schoolyard Science – Snowshoeing Edition!
On January 16th, a gaggle of excited fourth graders donned snowshoes and braved the deep drifts from the previous night's storm, seeking "stories in the snow". These Schoolyard Scientists searched for animal tracks and other clues left behind in the blank white canvas. They then observed, wondered and hypothesized about the evidence they found, asking questions about where animals were going, where they came from, and why they might have visited certain habitat features for food and shelter.
Sarah Sloth and Johnnie Jellyfish also had the school yard scientists practice their critical thinking indoors before the snowshoe adventure, looking at images of tracks from humans and wildlife and developing stories from these images! Try your hand below, and see if you can think like a fourth grader!
Can you figure out what the story is behind this image?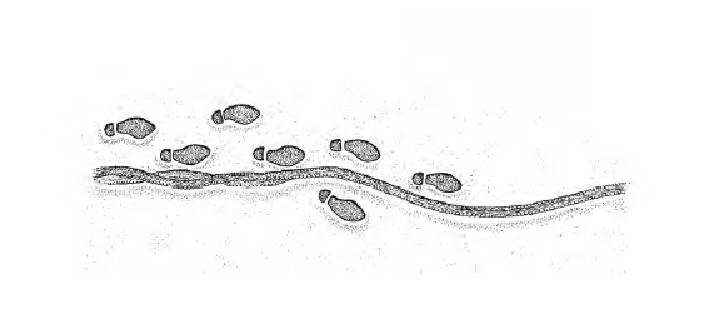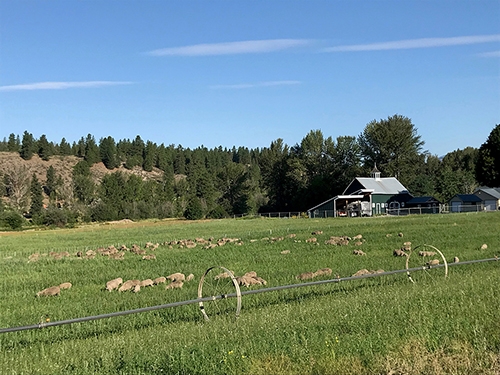 Steve Kenyon Grazing Conference in Cranbrook – Johnnie's 5 Takeaways
Johnnie Duguay, our Stewardship Associate, recently had the opportunity to attend a two day sustainable grazing systems workshop in Cranbrook, BC led by Steve Kenyon, a rotational grazing expert.
Here are Johnnie's thoughts from the conference:
You may be wondering, why would a Methow Conservancy staff member travel 8.5 hours across international borders to attend a conference titled "Profitable Pastures?" I was wearing one of my different hats, so to speak. I attended the conference with Betsy and Casey Smith of BCS Livestock to learn how to use BCS' sheep to improve the pastures BCS Livestock manages around the Methow Valley.
Here are my top five takeaways from the experience:
Incorporating grazing livestock into agricultural systems can improve plant and soil health by stimulating soil biology. There is an entire living world under the soil surface, including arthropods, earthworms, protozoa, nematodes, bacteria, and fungi!
Appropriately managed grazing allows root mass to develop beyond un-grazed systems, increasing the amount of carbon in the soil and providing food and shelter to the soil biotic community, which plants rely on for nutrient uptake.
Rotational grazing allows managers to time animal impact, give pastures the right amount of time to rest, graze areas evenly so that desired species are not overgrazed, and evenly distribute manure and urine.
Rotational grazing is rooted in natural predator-prey relationships. Historically, grazing ungulates in the wild moved in tighter herds due to pressure from predators. They did not typically hang around and graze one area for long.
Tools for achieving rotational grazing outcomes in an agricultural setting include devising a grazing plan, strategically mapping out grazing areas using "cell design", and moving animals through the cells during the grazing season while allowing adequate rest time for plants.
Attending this conference was an incredible opportunity to learn about concepts and practices for improving pastures with livestock!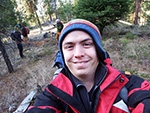 Nature Observations with Trevin Leon
Winthrop resident Trevin Leon has inspired us once more with his keen eye and photography skills. Trevin sent us this photo of a praying mantis that he spotted standing on the trail near the Thriftway grocery store in Winthrop.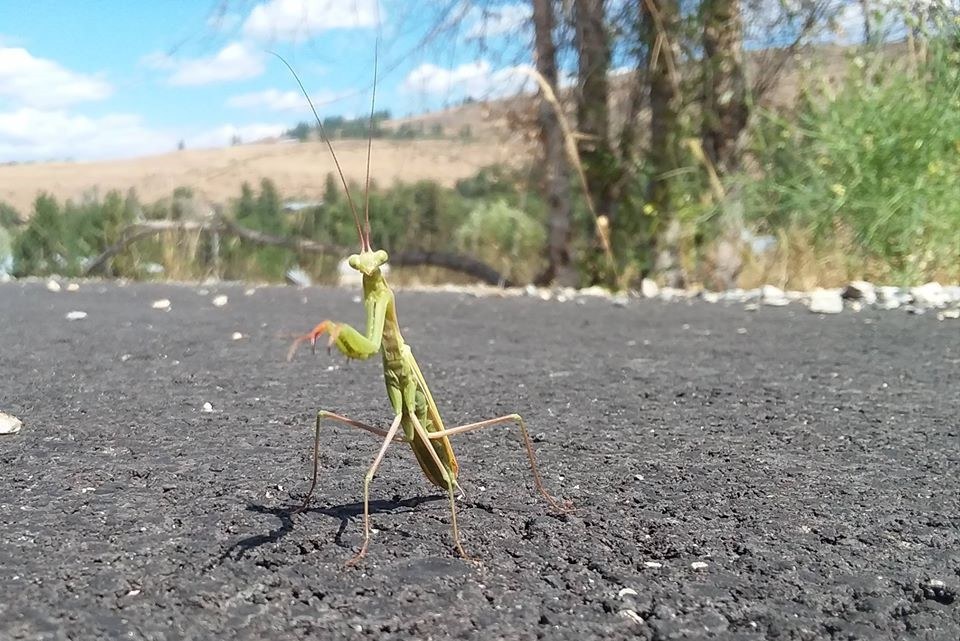 Trevin shared his research on this interesting creature that most of us might just walk by, "The most common praying mantis in Washington is the European Mantis. As the name suggests, this species is non-native to the North America. It was accidentally introduced at the turn of the 20th Century. It has done very well and is now widespread throughout most of the USA and Canada."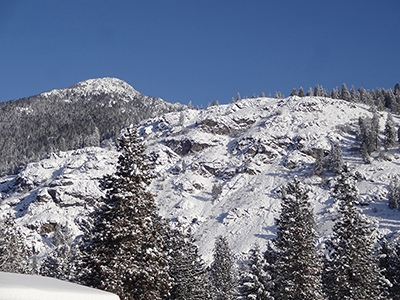 Trees Can't Migrate
by Julie Grialou, Conservation Biologist
The primary methods that animals use to adapt to winter conditions, hibernating, leaving (migrating to warmer climates), and changing color to better camouflage with the snow (e.g., snowshoe hare), are familiar to most people. But what do plants do in winter, and specifically what do our Ponderosa pines and other evergreen trees do to survive in winter?
The main threats to these trees during winter are freezing temperatures, dehydration, and physical damage from winter storms. Freezing temperatures cause liquids, including sap in trees, to expand. Sap that expands can pierce cell membranes, resulting in cell death.
Evergreens reduce their risk of this type of cell damage by having highly-viscous sap that is less likely to freeze than the sap of deciduous trees. The small leaves (aka needles) of evergreen trees have relatively low surface area and so lose less moisture, and therefore are less susceptible to dehydration, than if they had larger leaves. Evergreen leaves also have a waxy coating that helps to keep in moisture and retain hydration levels in these trees.
The shape of evergreen trees, especially evergreens that grow at higher elevations with higher snowloads (i.e., subalpine fir) is also adapted to winter, as the tree shape is relatively narrow and tapers so that snowloads on the tree are reduced; and the branches are relatively flexible, so that they can bend and shed accumulating snow instead of breaking off.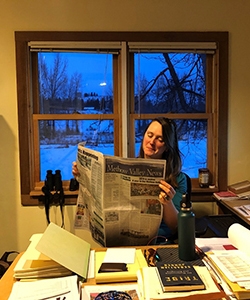 February Reading List
We thought you might be interested in seeing what we've been reading lately. Editor's note: These articles do not represent the beliefs or opinions of the Methow Conservancy or its staff. We offer them purely as a means of sparking discussion.
Nature: Nuthatches Vary Their Alarm Calls Based Upon the Source of Eavesdropped Signals
The first speaker of this year's Snow's Biome Conservation Course, Erick Greene, just got the research he will be presenting to us on Monday, February 24th, published in the very prestigious journal Nature. Erick is a professor of wildlife biology at the University of Montana and did a good portion of his data collection for this paper right here in the Methow Valley. It's pretty cool to know that the Methow is on the cutting edge of science!
The New York Times: Where Eagle Feathers Fall Like Snow
If you are a conservation geek like our staff here at the Conservancy, you know that in order to make progress on modern day conservation issues in the Pacific Northwest, you must have a deep knowledge of cultural/ legal/ and ecological history. The same is true in places like Lebanon where conservation groups are using the 1,000 year old concept of a hima or protected area from the Quran to gain community acceptance and make progress on the poaching of Lebanon's 2.5 billion migratory bird flyovers.
Stanford Social Innovation Review: Ecosystem Services Market Consortium Credits Farmers for Caring for the Environment
Eleven farming, conservation, and corporate buyer organizations are teaming up to create an ecosystem services market where farmers are able to convert environmental improvements to their farms into credits that can be sold in an open market place. This will allow for much of the heavy financial lifting that it takes to do critical water efficiency and soil improvement projects to be taken on by the market instead of the farmer.
Anchorage Daily News: The Best Way to Become an Outdoors Adventurer: Gradually, Then Suddenly.
During this part of winter it's easy to lose motivation for those winter adventures (especially with all this warm weather) and opt in for a Netflix binge instead. This article will remind you of the importance of getting out as much you can, both in to the outdoors and in life.
New York Times: What I Learned in Avalanche School
When you do go out on that outdoor adventure in the backcountry, be sure to read this fascinating article first about how personal relationships and attitude make just as much of a difference in staying safe as being a snowpack expert. While reading this piece, I was reminded of the personal practices that local professional ski guide Drew Lovell shared at our January First Tuesday on the seasonal snowpack outlook. Drew said, "Listen and bring your mind to this place with the most intention as possible, use your probe as an easy efficient way to observe, dig to gather information and share it, write something every day to embed the experience and put things in context, be kind and have a positive attitude, have fun because that is why you are here, and to be patient and ask questions." Good words to live by, thanks Drew!


News from Other Organizations
"For the Love of Winter" Nature Drawing classes are being offered by the naturalist and artist teaching duo Mary Kiesau and Perri Howard. The annual 4-class winter series dates are Fridays Jan 31st, Feb 7th, Feb 21st and Feb 28th; classes meet from 12:30pm-5:00pm. Attend individual classes for $65 or register for all four at a discounted rate of $240. See all the details and register here.
Okanogan Conservation District: Soil Health Workshop - Wednesday, Feb. 19th, 10am - 2pm @American Legion Post 56, 860 2nd Ave N, Okanogan. Join us for a visual demonstration, "How Soil Functions", followed by a discussion of soil health principles from regional expert, Marlon Winger (USDA NRCS). Learn more and register here.
Methow Watershed Council: Beavers' Role in Water Storage - Tuesday, February 18th, 7 – 8:00pm @ the Twisp Grange, Free, No RSVP required. The Methow Watershed Council is pleased to host the second part of their instream flow film and speaker series. There will be a showing of the film 'One Stick at a Time' and a presentation by former Methow Ranger District wildlife biologist Kent Woodruf on how beavers influence the ability of a landscape to store water and how that relates to instream flows.
If you would like to share news from another organization, please email us by the 25th of the month.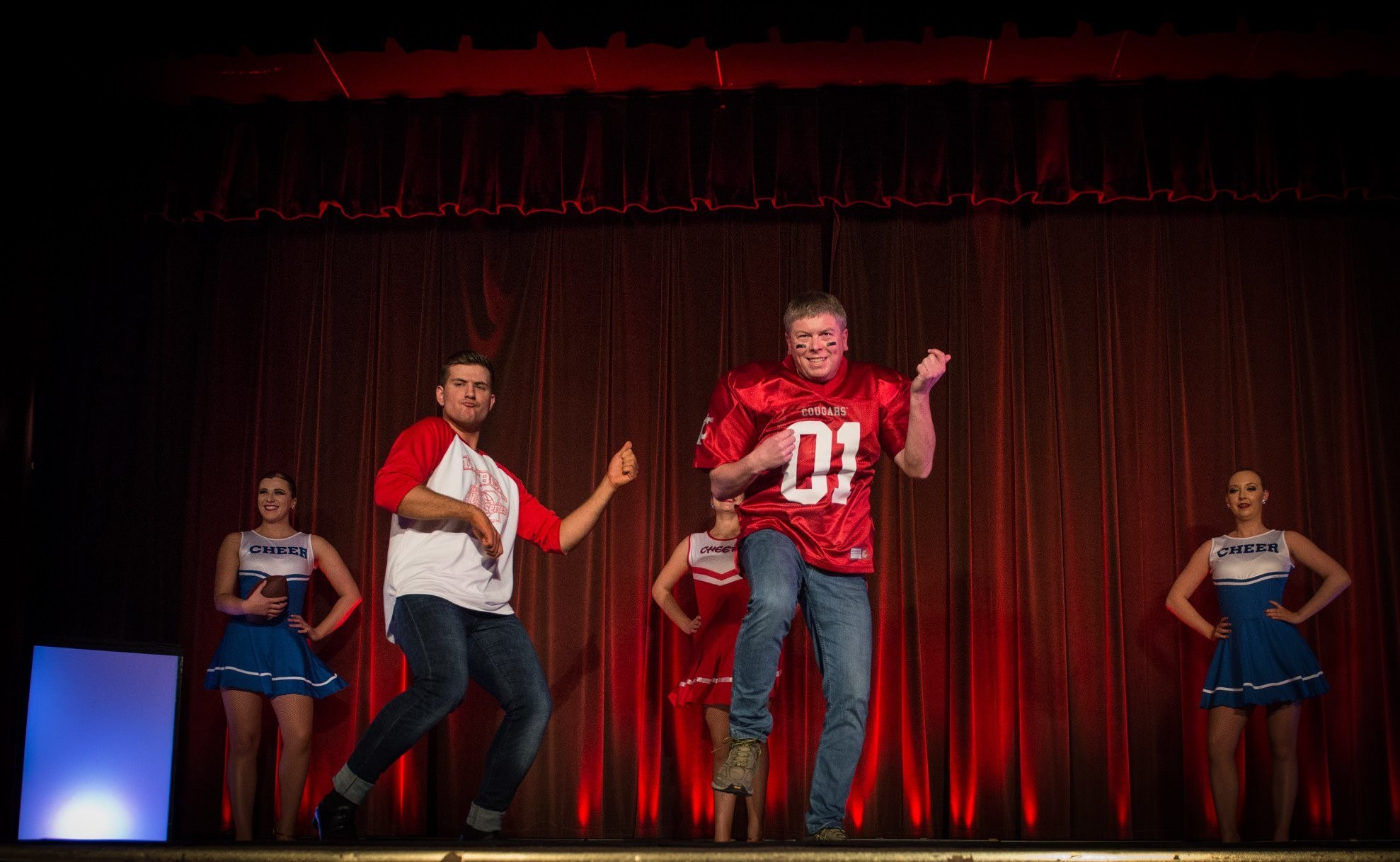 We'll leave you with this fun image from Methow Arts' super-fun Dancing with the Methow Valley Stars evening last weekend. Our very own Jason Paulsen did us all proud learning a swing dance in just one week!