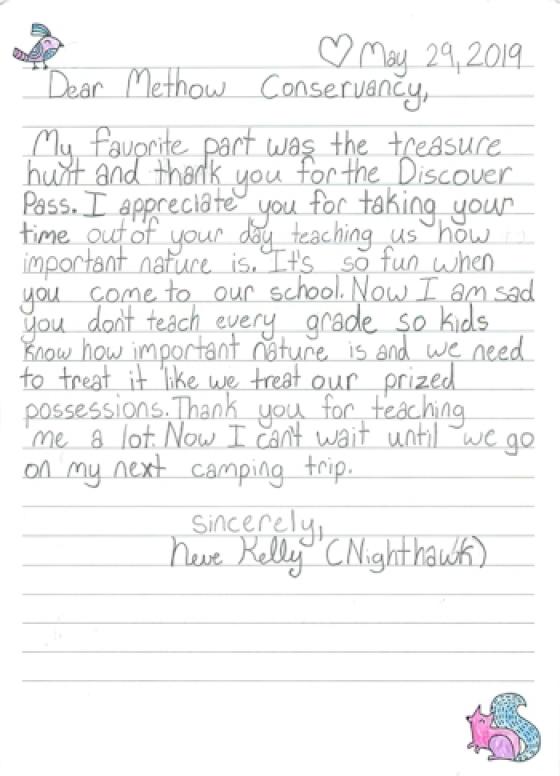 Two weeks ago we hosted our last session of School Yard Science on the Methow Valley Elementary campus for the 2018-19 school year. As part of the student's International Baccalaureate unit on "where we are in place and time," we delved deep into the world of maps. From aerial mapping to topographical maps, we wondered why we use different maps at different times. We put our map reading skills to the test on a special treasure hunt in the school yard and even learned how to use a compass.
"The end of the School Yard Science year is always a bit bittersweet," notes Associate Director Sarah Brooks who works with Stewardship Associate Johnnie Duguay and with 4th grade teachers Mr. Haley and Ms. Surface to coordinate the program. "By the end of the year, the students are really engaged in integrating their school yard time with what they are learning in the classroom and we are having so much fun. We're going to miss our time with them, but we know they are ready to 'graduate' as School Yard Scientists."
This year we'll have one more session with the 4th grade. Moccasin Lake Ranch is hosting a farm day in early June. The students will visit the ranch and learn about agriculture in the Methow Valley (and have a little farm fun in the process!).
As we have the past few years, we celebrate the year's-end by sending home our Methow Valley Field Guide and a free Discover Pass to each of the 4th grade families. "We realized that these students have become great observers and inquirers about nature and the outdoors and we want to encourage them to continue their adventuring after School Yard Science ends," says Sarah. "It's one way for us to say thank you for spending the school year with us."