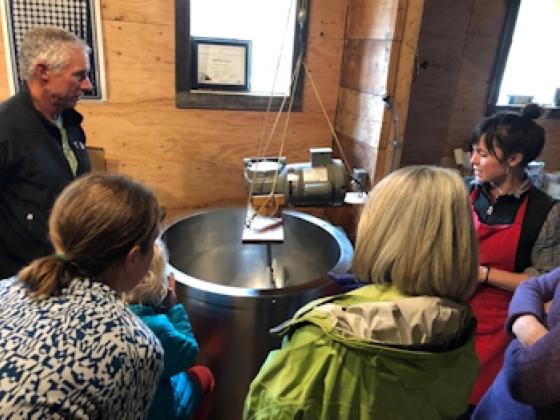 At the Methow Conservancy, our mission is to inspire people to care for the land. And we recognize that there are many people in our community who do just that through their skills, passions, hobbies and more! That is why we came up with our new Methow Share-Your-Knowledge education series, where we highlight community members who inspire us with their unique Methow Valley know-how.
Our first Share-Your-Knowledge style education event was a great success! Small-business owner and soap-maker Gabby Beaudin of Molly's Soap opened up her workshop located in the historic barn at Wild Plum Farm to a curious group of Methow Valley learners. Gabby taught us about the "magical" chemical reactions that create soap. We had a chance to touch and smell different varieties and learn about the essential oils and botanicals that go into each variety (fan favorites include Juniper & Sage, Buzz Bar, and Calendula). We all gained an appreciation of the sheer amount of labor and love that goes into handcrafting high quality, locally made products like Molly's Soap. We are so grateful to citizens like Gabby who inspire people to care for the Methow through their craft. Thank you Gabby for sharing your knowledge with us!
Our next Share-Your-Knowledge event will be a walk with Hannah Dewey on June 8th from 4:30-6:30 pm, who will share her experience advocating for the Methow through the Methow Headwaters Campaign.
If you've got an idea or recommendation for a Share-Your-Knowledge session, let us know!