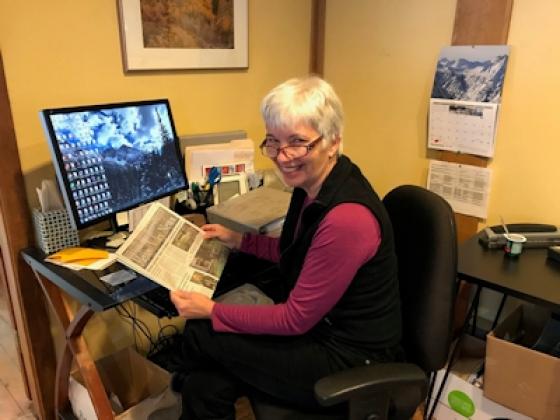 A monumental agreement has been reached between the States, tribes, and federal agencies that will change the way water is spilled over hydro-electric dams during spring salmon migration. The crux of the agreement is to increase spillage during lower electricity using times of the day (like mid-day and late at night). More water over the dams makes it easier for more fish to get downstream and thus increases their survival rate. In return for letting more water over, the dams will have more flexibility to sell power when the demand and price is higher. The agreement is good from 2019 through 2021, during which there will be ongoing monitoring and research to understand the benefits of the increased flow.
Earth and Space Science News: Crowd Sourcing Snow Data with Citizen Scientists
Snowpack is a tricky thing to measure, it's a constantly changing entity that is highly variable in space and time. For this reason, both scientists and winter recreationalists pay obsessive attention to any and every available piece of information they can find on snow conditions. Somewhere along this shared weather obsession these two groups realized they could scratch each other's backs, and thus the NASA funded Community Snow Observation project was born. Read this article to find out how you can contribute to snowpack data collection or come listen to OSU professor David Hill come talk about it at our First Tuesday at the Merc on January 3rd at 7pm.
High Country News: What the 2018 farm bill means for the West
Not much gets through both the House and Senate these days. Thankfully, the 2018 farm bill is the exception to this rule and should be signed into law shortly. This year's bill could be important for Okanogan County with legalization of industrial hemp and continued funding of conservation programs like CSP and EQIP through 2024.
Wenatchee Outdoors: Dream Homes for Outdoor Folks
There is a silent crisis sweeping across the Methow Valley: families are being buried and inundated by all of their outdoor gear. Luckily, a cure has been discovered. Build your home around your outdoor gear. When you realize that every nook and cranny has purpose and could be the perfect place to store your skis or backpacking gear your life starts to make sense and you become liberated to do what you really want to do, go outside.
New York Times: To Teach Children to Give, Tell Them How Much Your Family Has Been Given.
The principles behind giving can often go over the heads of kids and are forgotten by adults. That's why it's important to tell your kids how their family has been directly helped by the generosity of others. Here in the Valley we should all remember that we benefit every day from the work of amazing non-profits and their amazing supporters!
First published in January 2018