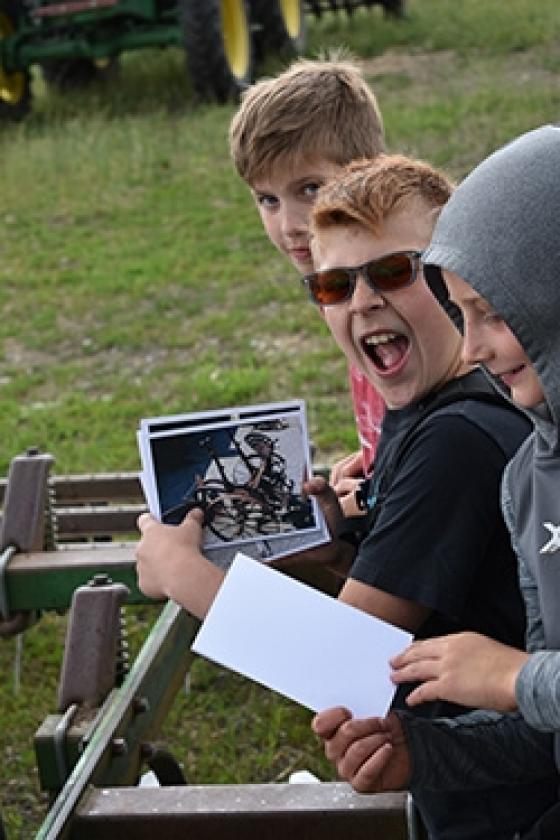 Picture this: 54 fourth graders, two dedicated teachers, five mother sheep and their lambs, a handful of parents, volunteers, and a crew of knowledgeable local farmers and ranchers converging at the Moccasin Lake Ranch hay barn on a stormy day in June. It was fun, chaotic and action-packed to say the least!
You may be wondering, why this group gathered during the busy farming season and at the very end of the school year: to wrap up a wonderful year of Schoolyard Science, expose students to agriculture in the Methow Valley, and allow students to get outside, get dirty and enjoy some hands-on learning in connection with the final fourth grade International Baccalaureate unit: "Where we are in Space and Time."
The Methow Conservancy partnered with Moccasin Lake Ranch and local farmers, ranchers, and other experts to host a Methow Valley Elementary School fourth grade field trip where students had the opportunity to explore current and historical agriculture practices here in the Methow, check out some cool farming technology, meet livestock, and learn about the parts of vegetables and fruit. Students were able to examine the skulls and bones of both wild and domesticated animal species, play games, and even visit the nearby Wild Plum pig farm at the end of the trip! A brief downpour in the middle of the day couldn't dampen the spirits of these hardy, curious learners. It was a day to remember!
Special thanks to: MVES fourth grade teachers Don Haley and Tiffany Surface; MVES Principal Bob Winters; Moccasin Lake Ranch owners Gaye and Jim Pigott; MLR Ranch manager Steve Tomschin; Suzanne Perrin of the Shafer Museum; Kim Romain-Bondi of Classroom in Bloom; Sam Lucy of Bluebird Grain Farms; Betsy, Casey and Skip Smith of BCS Livestock; John Rohrer of the USFS; Jennifer and Willy Duguay; and Deb Jones-Schuler of Wild Plum Farm. Thank you for fostering excitement about agriculture for students here in the Methow Valley!