Shrub-Steppe Restoration Guide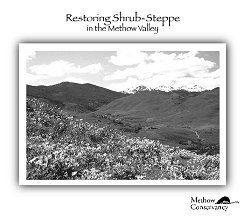 Caring for Shrub-Steppe Lands
Our Shrub-Steppe Restoration Guide is for anyone who lives on or cares for shrub-steppe lands – those semi-arid hillsides and plateaus dominated by perennial grasses and shrubs like bitterbrush or sage. It provides guidance on protecting and restoring shrub-steppe habitat on a small scale, strategies for weed control, and ways to rehabilitate the land after disturbances like new driveways, septic fields, and homesites. Pick up a free copy at our office in downtown Winthrop, or email us to mail one to you.

You can also download a PDF here:
Download Pages 1-7
Download Pages 8-15
Download Pages 16-18
Download Pages 19-21
Download Pages 22-24
Download Pages 25-29
Download Pages 30-35
Download Pages 36-39

Download Page 40
Join us and choose a future for the Methow Valley that includes healthy wildlife habitat, thriving agriculture, and a connected community.
Donate Now