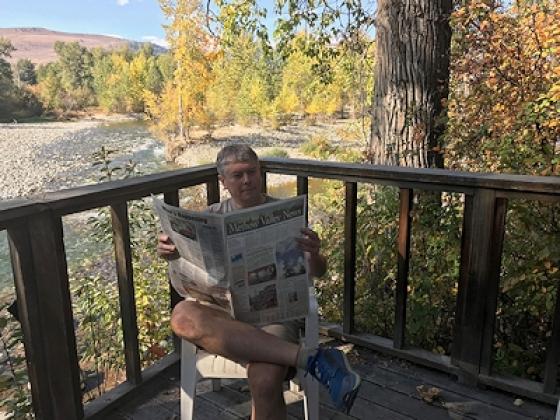 Wall Street Journal: A Modern Second-Home Retreat for Seattle's Tech Elite
Snapshot: Flashback to 2005, when similar articles in national media signaled a new interest in the real estate market in the Methow Valley.
Seattle Times: Mountain Goat Relocation Begins in Olympic National Park
Snapshot: Mountain goats were introduced to the Olympic Mountains from British Columbia in the 1920's by hunters. Since then their population has grown to be roughly 700 goats. Interestingly, Olympic National Park doesn't have any naturally occurring salt licks, so goats were relying on humans for their salt source. This made the goats aggressive toward people, and was the turning point for the Park Service to initiate a program this summer for their relocation to the North Cascades.
New York Times: Can Dirt Save the Earth
Snapshot: As many Methow landowners know, restoring native shrub-steppe or grassland on your property is a difficult, expensive, and time consuming process. A couple in Marin County California experiencing these difficulties decided to consult a PhD rangeland ecologist. What the rangeland doctor prescribed doesn't follow conventional conservation wisdom and lead to their entry into the world of carbon farming.
High Country News: Time is Running Out (Again) for Conservation's Bank Account
Snapshot: The Land and Water Conservation Fund (LWCF) was established in 1964 with bipartisan consensus. The LWCF uses royalties from offshore oil and gas leases to pay for public land purchases and private land conservation. This important fund is set to expire September 30th, unless a bill is able to pass through congress.
Originally published October 2018