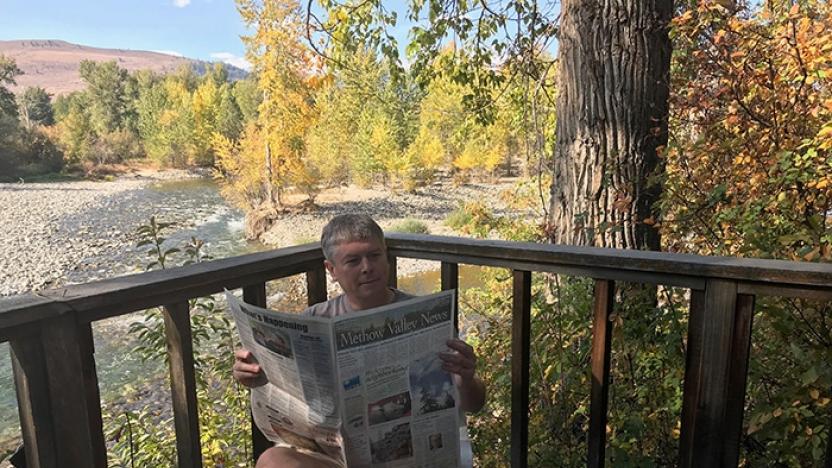 July Read Along with Us
Our email inboxes here at the Methow Conservancy are often full of articles we share with each other to help inform our work or inspire discussion. We thought you might be interested in seeing what we've been reading.

Editor's note: These articles do not represent the beliefs or opinions of the Methow Conservancy or its staff. We offer them purely as a means of sparking discussion.

Outside Online: Finding Home in the West by Smokejumping
Most people fall in the love with the Methow while driving over Hwy 20 or by skiing through early winters on holiday, but some people fall in love while jumping out of an airplane on their way to fighting thousands of acres of wildfire. This writer's love story reminds us of the importance of places like the Methow that serve as ambassadors to the ethos of the West no matter who you are or how you find it.

The Wenatchee World: Q and A: Fish and Wildlife Director Kelly Susewind Wants You to Know There's More to His Agency than Hunting and Fishing
Washington State Fish and Wildlife Director Kelly Susewind fields questions from the editors at the Wenatchee World mainly about salmon issues and funding for the agency. It's always good to remember that there are real people working in these agencies and they are doing the best that they can with often limited resources given the scope of their work. Here at the Methow Conservancy we are highly appreciative of all the work our local WDFW folks do for the Methow Valley!
High Country News: After Nearly Going Extinct, Washington's Pygmy Rabbits Need Room to Grow
Roughly 120 miles to our Southeast on the interspersed sage brush and wheat fields of the Columbian Plateau a 20 year project has been going on to recover the endangered Columbia Basin Pygmy rabbits. Undertaken by WDFW on land owned by the Nature Conservancy and a private landowner turned pygmy supporter, this captive breeding program has managed to bring up their wild numbers into the hundreds from just a mere sixteen. But their success has been complicated by the fact that a lot of historic pygmy rabbit habitat has been fragmented or lost and grassland fires are becoming much more frequent.

New York Times: Who Gets to Own the West?
Large land parcels in the West are becoming increasingly concentrated in the hands of a few ultra-wealthy individuals. This new regional force is stirring up quite a debate by changing historic land use and cutting off access points to public lands. Some of these individuals cite conservation as their motivation for buying hundreds of thousands of acres, while some are open about it being an investment in an uncertain future. Either way this trend is likely to continue and be a major factor in Western lands politics.
New York Times: Can 'Big Data' Help Fight Big Fires? Firefighters Are Betting on It
As local fire departments are thrust onto the front lines of being first responders to potential large scale wildfires, agencies are hoping that new technologies that quickly spit out predicative models using huge weather and vegetation data sets will become a powerful tool in their belt.