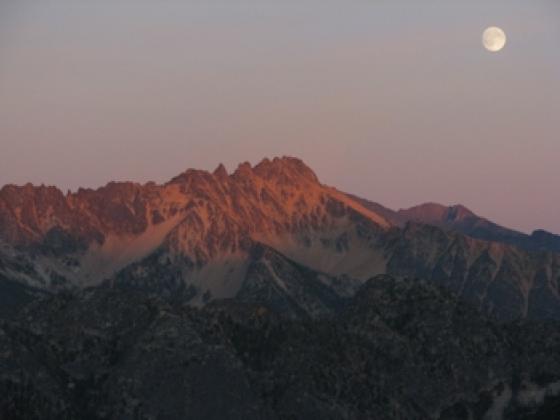 March 13th: Big Valley Owling Adventure Round 3, 8 - 9:30pm, Free. In our final installment of owling in 2019 we will be back at the Big Valley loop looking and listening for owls! To sign up, email us or call (509) 996–2870.

March 20th: Evening Equinox Adventure 7:30-9 pm, Free. Location: TBA. Join us for a snowshoe or walk under the bright full moon to welcome the formal first day of spring and enjoy the wonders of our natural world at night. The March full moon is considered to be a Super Moon because the Moon is near its closest distance to the Earth along its elliptical orbit--in other words, extra bright for nighttime nature walks! For more information on this astronomical phenomenon visit this link. Registration for the Equinox Adventure is necessary and space is limited to 20. Contact us at 996-2870 or email us to reserve your spot.
April 2nd: First Tuesday with Don McIvor - Doors open at 6:30pm, presentation from 7-8pm. Location TBD. Join local ornithologist Don McIvor as he talks about Migratory birds as international citizens who know no borders. In the Methow, our avian migrants knit us together with landscapes as distant and exotic as the high arctic tundra and the pampas of South America. So come explore the fascinating natural phenomena of bird migration, tying in what we know—or can guess—about the seasonal movements of "our" migrating feathered friends.
April 18th: Molly's Soap Tour 4:30-5:30 pm, Free. Location: 211 Twin Lakes Rd, Winthrop (Molly's Soap shares a headquarters with Wild Plum Farm). Introducing our new Methow Share Your Knowledge series! This tour will be an incredible opportunity to experience an inside look at a local craft. Soap maker and small business owner Gabby Beaudin will share her talents for hand-crafting natural, small batch soap made with essential oils and botanical ingredients. For more information about Gabby's product, visit www.mollyssoap.com. Registration is necessary and space is limited to 12. Contact us at 996-2870 or email us to reserve your spot.
For all upcoming events, see our Events Calendar.