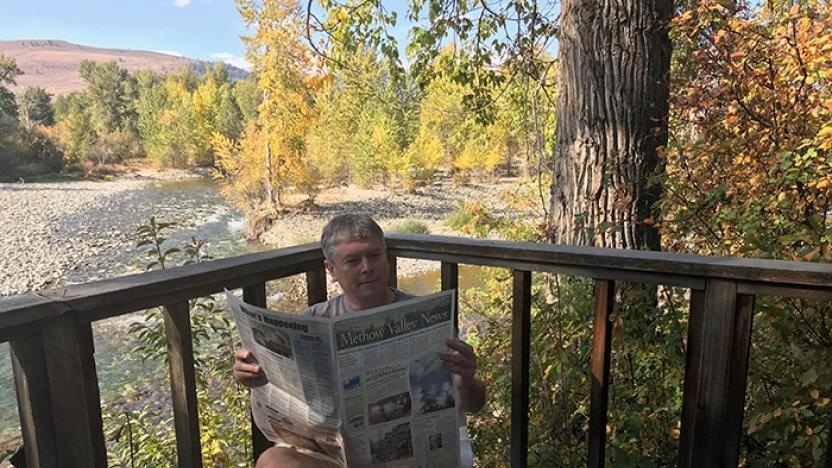 August Read Along with Us!
Our email inboxes here at the Methow Conservancy are often full of articles we share with each other to help inform our work or inspire discussion. We thought you might be interested in seeing what we've been reading.

Editor's note: These articles do not represent the beliefs or opinions of the Methow Conservancy or its staff. We offer them purely as a means of sparking discussion.

Crosscut: Drinking responsibly could now mean drinking salmon safe beer
Invigorated by public concern for the Southern Resident Orca population and their main food supply(Chinook salmon) the non-profit Salmon Safe is growing a movement among vineyards and hop growers to get a Salmon Safe certification. The certification requires that an entire operation meet certain criteria for water use, on-site habitat, and pesticide use. Currently, in the Yakima basin 22% of all the hops produced are grown on a Salmon Safe certified farm. Yet, other farmers say that more incentives are needed for them to take on the costs associated with getting certified and the best incentive for farmers is for breweries and grocers to have demand from consumers for more certified products.
Seattle Times: Bonneville, the Northwest's biggest clean-power supplier, faces promise and peril in changing energy markets.
Faced with managing an aging Dam infrastructure, adapting to an increasingly competitive energy market, and paying for Columbia River salmon recovery that is far from over, the Bonneville Power Administration (BPA) is in a tricky financial situation. Some critics are left to wonder if we really need all the dams that we have.
California Magazine Sunday: The Launch
Apple growing times have changed from the days of producers only growing Red Delicious and Granny Smith apples. Now there are a plethora of carefully-crafted options, including a brand new variety created by WSU being launched this fall called Cosmic Crisp that some think could become the most popular apple in the world. This article takes a fascinating look at what's happening along the Highway 97 corridor to Wenatchee.
Phys.org: Hundreds of scientists embark on mission aimed at improving air quality forecasts
We all know one thing about smoke from wildfire-- we hate it. There is a lot more, though, that we don't know. That's why this summer a joint project between NOAA and NASA called FIRE-AQ will have two earth resources science aircraft chasing wildfires across the west gathering data on fire development, plume evolution, downwind impacts on air quality, large scale aerosol properties, and gas profiles. With any luck we will not see them anywhere near the Methow.
Seattle Times: Feds look again at reintroducing grizzly bears to North Cascades
It's been hard to follow what's been happening with the effort to reintroduce grizzly bears into the North Cascades. First former head of the Interior Department Ryan Zinke gave his support for the reintroduction then managed to halt the process. Well now it's back on and until October 24th there this an open comment period to which you can submit your comments here.