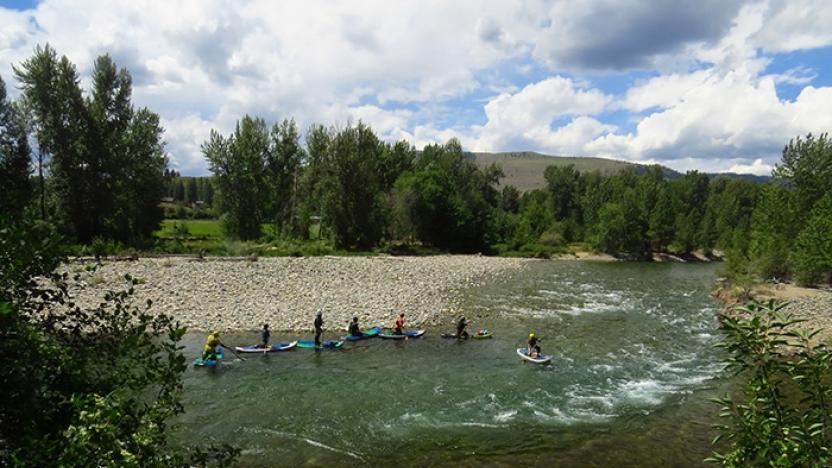 Going with the Flow
With our valley stitched together by the thread of the Methow River, each of us is potentially impacted in a drought year like this one. Whether you are an agriculturalist forecasting crop yields and access to irrigation water, or a summertime visitor hoping to enjoy time on a local creek or river, the amount of water in our rivers shapes our activities. And it really matters if you are a threatened or endangered fish living in the watershed!
Here's a quick analysis of current flows as of late June.
As of last week (June 25th) the Methow River as measured in Pateros by the USGS was flowing at 1,250 cubic feet per second (cfs). That's just 32% of the Median flow recorded on that date, as measured over the past 60 years. It is also just slightly above the lowest flow ever recorded on June 25th of 1,210 cfs which occurred in 2001.
A flow level of 1,250 cfs on the Methow River wasn't reached last year until July 16th, and not until July 20th in 2017. And both 2017 and 2018 flows were below the 60 year Median.
What the rest of summer 2019 will bring is hard to predict, but it appears that we are running 3 to 4 weeks ahead of normal with respect to the amount of water in our rivers and streams with flows decreasing fast. The Methow River typically sees low flows in mid to late September with flow levels of 360 cfs +/-. If the trend continues, we could see those flows as early as mid-August.
And while Mother Nature is in charge when it comes to our weather these next three months, it is worth pausing to thank all of those who have taken steps to conserve water use, including the many agriculturalists up and down our valley who have installed new irrigation pivots aimed at using water more efficiently. In a drought year, everything we can do to reduce water use matters!
Watch E-News for another flow update in early August!