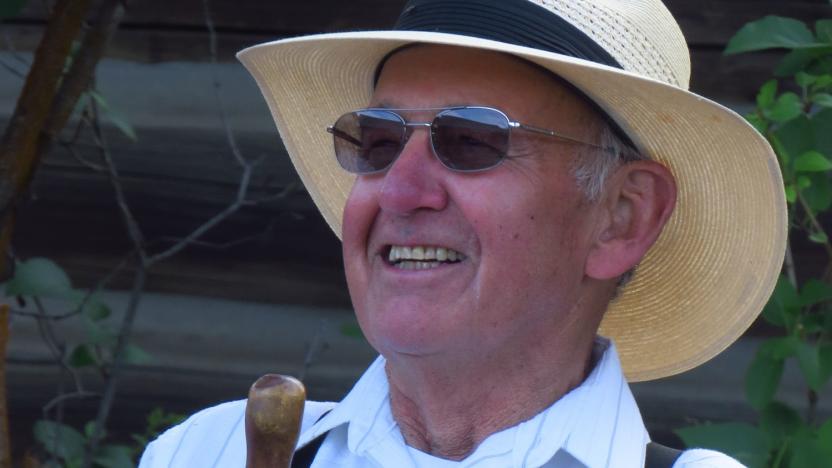 In Memory of Carl Miller
From the Eulogy prepared by Sarah Brooks:
Carl Miller was a good man. He lived a good life. He was deeply loved and loved deeply.
I feel like Carl would suggest I stop there. He appreciated direct, honest, authentic, straightforward communication. I think he often thought I spent too long getting the point. Just get 'er done, Sarah, I hear in my head.
And, really, he's probably right. Those three thoughts convey what I think matters about Carl and the role he played in our lives whether as mentor or husband, father, family, friend, leader, or community builder. He'll have to indulge a few more words from me today, because I'm still processing what it means to have a Methow Valley – a world – without Carl Miller's physical presence.
Carl Miller was a good man.
Perhaps his sense of responsibility and care for people around him – those he knew and those he didn't—came from growing up in this place, where everyone needs their neighbor at some point. He was rare in his ability to be both stubborn (relentless) and always focused on making things better. He never saw a meaningful volunteer project he couldn't tackle, and he was the first person to help a struggling community member. He was true to his word – when he decided the Shafer Museum needed a new exhibit, it happened. When a warming hut was needed at Chickadee, Carl was there working on it every day until it was done. When he worried about the fitness of his firefighters in Spokane, he inspired them to ride their bikes to work. He believed in a good day's work and he worked harder, physically harder, than anyone I've ever met – and I didn't even know him in his 20s or 30s. He cared about his family deeply, as we all saw everytime he looked at Roxie or talked about his kids and grandkids. And, aside from spinning a few tall tales about his youth in the Methow, I always knew him to be honest and clear. He had high standards and expectations, but he could also be amazingly gentle.
Carl Miller lived a good life.
I've never heard someone talk about their childhood with such wonder. It was almost as though he couldn't believe how many adventures he had and survived. He loved to be outside and he loved the outdoors. He spent hours and hours covering hillsides, mountains, and valleys by bike, ski, foot, or horseback – always taking in everything nature offered. He chose a heroic profession – a firefighter – and from all accounts I have heard, he approached that with a sense of deep pride, skill, and honorable duty. He made the places he lived better – from building the Nordic ski system at Mt. Spokane to selling more duck race tickets for Winthrop Kiwanis than seemed humanly possible. He made friends everywhere – he could relate to a stoic rancher exchanging few words and he could keep up with the most talkative museum volunteers. He could laugh with pure joy and a twinkle in his eye and he knew the value of solitude. He earned respect from all who knew him, and he helped people see that giving of yourself was not sacrifice but fulfillment.
Carl Miller was loved and he loved deeply.
I hope all those gathered here today know how much he cared about each of you. He loved being a Miller. He loved being a father and grandfather. He loved Roxie. He loved his friends and his fellow firefighters. He loved the Methow Valley. It was always his home. These mountains, hills, valleys and rivers are always where we will find him. And, in return, he was loved deeply. I know everyone here loved him and for each one of us here today there are literally hundreds more who have had their lives touched by him.
In the last week I've had so many conversations about all of the amazing ways Carl influenced people. In one exchange, I said something to the effect of, "how on earth can the Methow Valley ever pay honor to a man like Carl?" After a long pause, Fred Wert replied, "we all just have to carry on his legacy." A tough order to fill, for sure, but one I will pledge to try.
Carl Miller was a good man. He lived a good life. He was deeply loved and loved deeply.
When Roxie asked me to speak, she specifically requested that I share a poem. I know Carl always appreciated the reflections of William Stafford and it only feels right to conclude my remarks with a reading of one of Stafford's Methow River Poems.
Silver Star
To be a mountain you have to climb alone
and accept all that rain and snow. You have to look
far away, when evening comes. If a forest
grows, you care; you stand there leaning against
the wind, waiting for someone with faith enough
to ask you to move. Great stones will tumble
against each other and gouge your sides. A storm
will live somewhere in your canyons hoarding its lightning.
If you are lucky, people will give you a dignified
name and bring crowds to admire how sturdy you are,
how long you can hold still for the camera. And some time,
they say, if you last long enough you will hear God;
a voice will roll down from the sky and all your patience
will be rewarded. The whole world will hear it: "Well done."
-- William Stafford
Carl Miller is our Silver Star. And, it is time for us all to say "well done."