Methow Bear Aware Campaign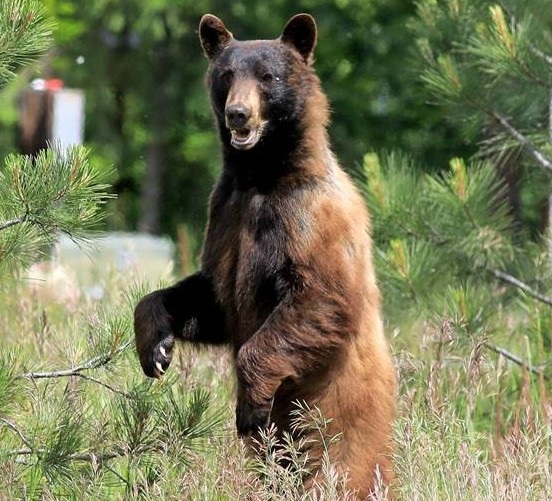 About Methow Bear Aware
In 2020, a coalition between Washington Department of Fish and Wildlife, Defenders of Wildlife, WasteWise Methow, private partners, and the Methow Conservancy (MC) formed out of a shared recognition of the growing human-black bear conflict in the Methow Valley and a desire to do something about it.
Together, the working group was to able to identify bear-garbage interactions as the most immediate threat to our local black bears and the starting place for any community effort to address these problems. As a first step, Defenders of Wildlife and MC purchased 25 bear-proof trashcans to go to high bear-garbage conflict areas. Those cans are currently out in the wild and making a big difference, but they are not enough to solve the problem.

In 2021, the partnership will be launching a new fundraising and awareness campaign called, "Methow Bear Aware" that is focused on providing the necessary resources to WasteWise Methow to transition priority areas to bear proof trashcans and to create educational opportunities aimed at fostering a long-term bear friendly community. MC will use its existing community engagement program to lead and house this campaign, relying upon coalition members for critical expertise, logistical, and implementation support. This collaborative effort will ensure that a healthy black bear population thrives in the Methow Valley for years to come!
For more information contact daniel@methowconservancy.org or call him at 509.996.5871.
How You Can Help
Help us save bears: Methow Bear Aware (MBA) is working on purchasing more bear proof trashcans and educating our community. We need your support in raising $15,000 to kickstart our campaign! You can help us purchase 50 new bear proof bins and make 500 people more bear aware than they have ever been. Thanks to generous donors, every dollar you give is matched up to $7,500!
For $50 dollars you can sponsor one black bear cub to live a trash free life.
Or for $100 dollars you can sponsor a black bear parent to raise generations of trash free bears.
To make a donation by credit card you can visit methowconservancy.org/donate. Use the "donate now" button, and be sure to include the phrase Methow Bear Aware in your donation description. Checks are also welcomed and can be mailed to PO Box 71, Winthrop, WA 98862 (please note "Methow Bear Aware" on the check).

Join the waitlist: Email Casey Bouchard, the General Manager at WasteWise Methow, (casey@wastewisemethow.com) to get on the waiting list for the bear proof trash service. This is a list of WasteWise customers who are interested in upgrading their current service to include a bear proof trash bin. This service will cost a little more, and Casey can answer questions on what that cost increase will be. These bins are highly effective at reducing bear-trash interactions and so that little bit of extra cost will go a long way toward protecting bears. There are not currently enough bear proof bins to go to everyone who might want one, but this list will ensure that as they become available, we can get them to the highest conflict areas as soon as possible.
Attend an event: One of the best way to become bear aware is attending one of our MBA events. For the first MBA event, USDA Wildlife Research Scientist and Carnivore Specialist Stewart Breck gave a First Tuesday presentation on his work with a 5-year bear-can study in Durango, Colorado. You can watch Stewart's presentation HERE and be sure to check the Methow Conservancy event page for upcoming MBA events.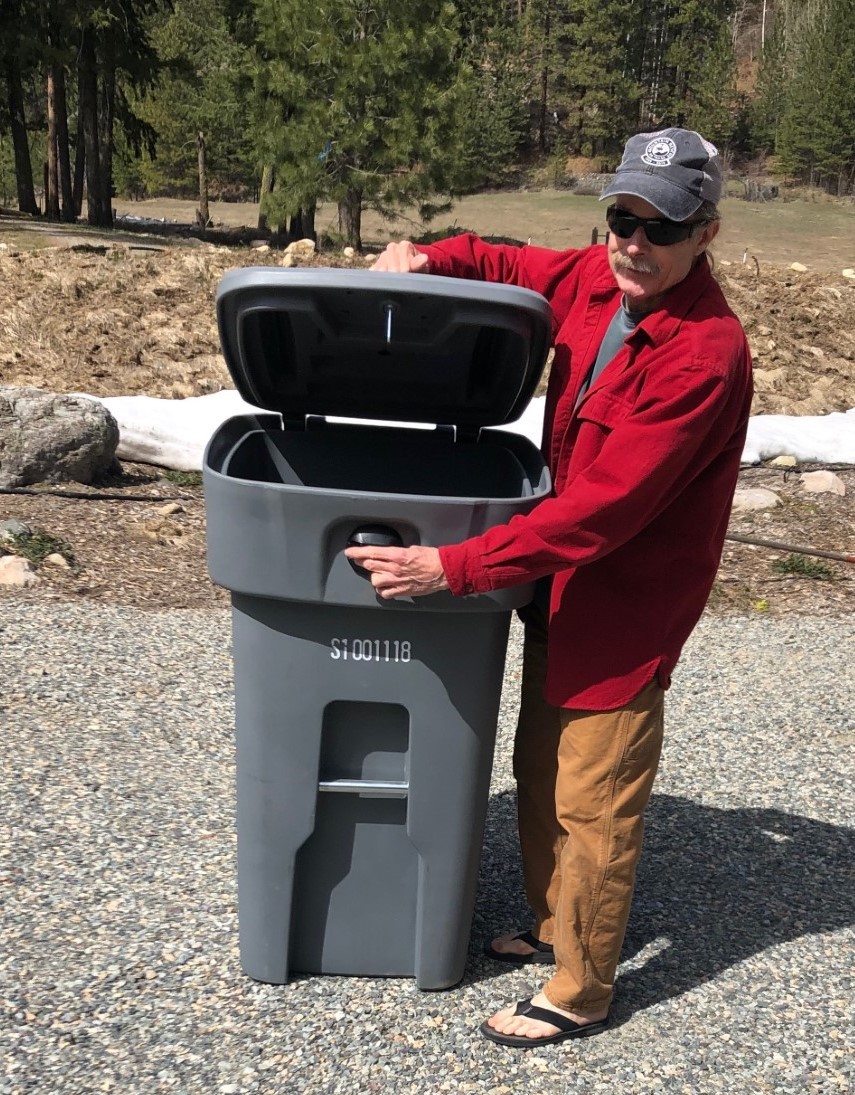 Frequently Asked Questions
What is bear conflict?
Black bears are omnivores that have an incredible sense of smell and are highly curious. These traits combined with their strong motivation to find food can result in them investigating backyards, homes, and campsites. When a bear successfully gets a meal from a human source like a garbage bin or bird feeder, it will remember that location and visit it again and again. When bears repeatedly eat trash it can become their primary food source. These bears pose a safety risk to people and their presence often results in wildlife management action. We use the term bear conflict as a catch-all phrase to describe unwanted bear behavior caused by their learned interest in human food and garbage. This campaign's goal is to actively reduce bear conflict!
Where in the Methow is bear conflict the highest?
At present, the Mazama, Lost River, and Wolf Creek areas are hot spots for trash conflict. Conflicts do occur in other places, but these are the initial priority areas for the Methow Bear Aware program. It's also important to note that all of the Methow Valley is black bear territory, even in town centers.
Are there times of the year when I should be extra careful about bear conflict?
Conflict can occur anytime bears are active between April and November; however, peak conflict typically occurs when bears first emerge from their dens in spring in April and during the fall months when they enter "hyperphagia" - the time period when they are packing on weight prior to entering their dens for the winter.
Why is securing my trash important? Can problem bears be relocated?
Bears are smart and can travel hundreds of miles in a short amount of time which makes relocation rarely effective. As a result, problem bears will often need to be lethally removed by wildlife managers. Securing your trash is the most important thing you can do to prevent bears from learning about this food resource and becoming problem bears.
Does the level of bear conflict change with natural food availability?
Black bears are omnivores and consume a wide variety of foods, including berries, nuts, roots, meat, insects, and fish. In years where important natural foods, like berries, have crop failures and bears are hard pressed for food, some bears might take the additional risk of interacting with people and come into neighborhoods looking for food. In years where there is good natural food availability, bears are less likely to take that risk and therefore there is corresponding reduction in bear conflict.
Are bears attracted to bird feeders? If so, how can I protect my bird feeder?
Trash is much more attractive to bears than bird feeders; however, they can definitely break into bird feeders as well. To avoid this, take down feeders at the beginning of April and put them back up at the end of November. This way you can still provide birds with food during the winter months but avoid black bears at your feeders.
Are bears attracted to compost? If so, how can I protect my compost pile?
Compost piles can be attractive to bears. The best way to guard your compost pile is with electric fencing. This video made by Defenders of Wildlife covers how to install an electric fence to prevent bear conflicts, you can watch it HERE.
I have fruit trees near my home. How can I avoid attracting bears and protect my fruit?
Fruit trees can be very attractive to black bears. Electric fencing can be used to exclude bears from orchards during fruiting season. Make sure to pick fruit as soon as it ripens and avoid leaving any windfall fruit on the ground.
Can we buy our own bear proof trashcan?
If you have garbage pickup service through WasteWise Methow the only and best way to get a bear proof trash bin is to email Casey at (casey@wastewisemethow.com) and join the bear proof service waitlist. Through MBA's purchase of 25 bear proof bins and future acquisition of 50 more, WasteWise Methow will be able to establish a bear proof trash service and from there grow their fleet to meet community demand.
Can we install our own cable/latches to the trash bin our service provider gave us?
Due to the new automated garbage trucks, the cable/latches systems are not compatible with automated pick-up. They may be helpful if you have to store garbage outside around your home or don't subscribe to commercial service.
If I do not have a bear resistant trash can, or need to store trash near my home, how can I secure my trash?
To secure trash without a bear resistant trash can or temporarily near you home, place your trash can inside a locked garage or shed and wait to put trash out until the morning of your pick up service.
How can commercial customers participate in Methow Bear Aware?
WasteWise Methow is working with commercial customers on new bear proof dumpsters as they make capital improvements in their fleet. Stay tuned!

To learn more about about Living in Bear County please visit the Defenders of Wildlife webpage.

Join us and choose a future for the Methow Valley that includes healthy wildlife habitat, thriving agriculture, and a connected community.
Donate Now